We would like to give you an insight into the development of the company 3P Services – from its beginnings in 1992 to the present. What does the company stand for? On which knowledge and quality standards is its expertise based? In which networks is 3P involved and what milestones has the company reached in its history?
The Company
For 30 years 3P (Pipeline, Petroleum & Precision) Services is a recognized and independent in-line inspection company for pipelines in the petroleum, petrochemical and chemical industries. We develop and manufacture innovative in-line inspection (ILI) systems and apply these ILI tools inside our client pipelines. This specialized service is globally available in both onshore and offshore pipelines.
3P Services is located in Wietmarschen/Lohne in the Emsland, the on-shore oil producing region in NW Germany. Today, our company numbers over 130 people in a variety of disciplines and is constantly expanding.


3P Philosophy and Dedication
Since our work contributes substantially to our client's pipeline integrity management, we take part in the responsibility for the safe and economic operation of oil, gas and product pipelines. We therefore see sustainable engagement in associations or working groups within the pipeline community as our task.
We support Pipeline Operators Forum (POF)
When leading pipeline operators decided to create a mechanism to collect and share best practices for in-line inspection through the Pipeline Operators Forum (POF), 3P Services was one of the handful of ILI companies invited to support. As the POF has evolved its recommendations and up-dated its specifications, we continue to provide our support and collaboration.
We are member of the PPSA
We are an initial member of the Pipeline Pigging and Services Association (PPSA) and 3P personnel has served on the board and as president for several years.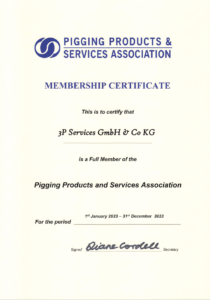 Motivation
Prime motivation of the management and personnel is to provide our customers with detailed information regarding pipeline condition (metal loss and others) at the best possible value for money. Permanent research and development as well as personnel training efforts guarantee the highest level technology combined with appropriate competence of our staff on all levels.
Videos
3P Image Video
We are a family-friendly company.
3P Apprenticeship
Our Memberships
3P Services ist engaged in various associations. Both the promotion and support of young talents in the region and the exchange of knowledge and experience with international experts within the pipeline community are of great importance to us.
Our Certification
Independent national and international authorities and companies have awarded 3P Services with various certifications, regarding both intelligent in-line tool systems and the HandyScan line of equipment. 3P Services has set up and is working under a Quality, Health, Environment & Safety Management System certified by DEKRA Certification Germany.
ISO 9001:2015 – Quality Management System
3P Services' Quality Management System complies with ISO 9001:2015. Within this frame 3P Services utilises any opportunity for a continuous improvement of its service.
ISO 45001:2018 – Health, Safety, Environment
ATEX
3P Services is able to provide ATEX compliant inspection tools in accordance with directive 2014/34/EU.
API-Standard: ILI PQ – Level 1-3
With staff training following the American Petroleum Institute's standard "In-line Inspection Personnel Qualification and Certification" 3P ensures that its employees have the specific knowledge of the technical principals of in-line inspection technologies, operations, regulatory requirements and industry standards as applicable to pipeline systems.
Our History
In its 30-year history, the company has shown steady growth. Since 1992 the number of employees continues to increase and our R&D department is constantly working on technical innovations to respond even better to customer requirements. In our timeline we have selected some milestones in the history of 3P to give you a brief overview of the company's development.
Click on the button to see our milestones