36″ tanker un-loading pipeline
Pipeline Description
36" – 9 km long tanker un-loading pipeline, connecting the offshore pipeline end manifold with the tank farm onshore (see Fig. 1).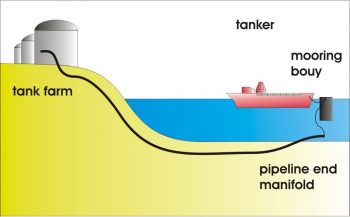 Why is it "un-piggable"?
Access to the pipeline is only possible at the onshore end of the pipeline.
Target of the inspection
Perform a high resolution MFL inspection. As a special issue, study defects in the vicinity of girth welds.
Concept for a solution
Re-design a single module bi-directional MFL-tool for pump-in/pump-out operation.
Performance
The client installed a temporary pig trap at the tank farm. The MFL tool (see Fig. 2) was pumped by sea water towards the pipeline end manifold located on the sea bottom underneath the tanker unloading buoy. The contaminated water was pumped into a tanker moored for this purpose at the pipeline end. The tool returned to shore by reverse flow pumped from the tanker.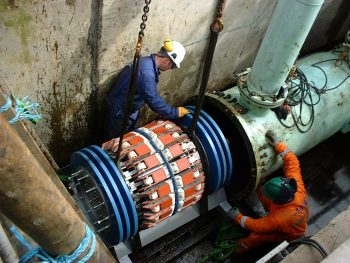 Result
The MFL inspection run took less than 8 hours. A particular advantage was the dual coverage of the pipeline, since the measuring system collected data on the way in and out of the pipeline. Therefore, the repeatability of readings could be verified and the grading accuracy improved. Certain sections that were considered critical by the client could be evaluated in detail within 24 hours after the conclusion of the pig run. All project objectives were successfully achieved on time and within the budget.