6" TO 12" PRODUCT PIPELINES
Pipeline Description
Product pipelines, diameters 6" to 12", 12 km long, connecting refinery and tank farm at the harbour (see Fig. 1). The pipelines pass through a natural reserve. Since adjacent pipelines from another operator had experienced leaks in the natural reserve, the inspection was urgent.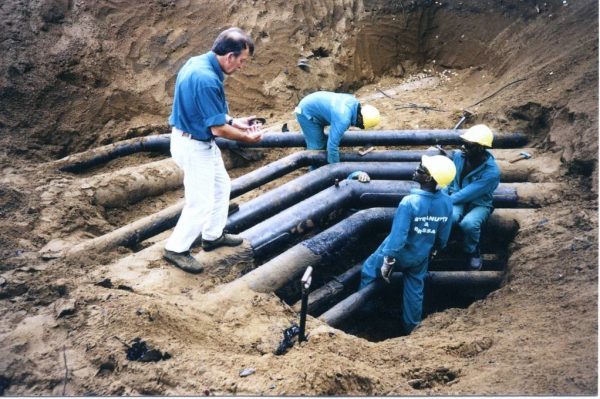 Why is it "un-piggable"?
There are mitred bends present in angles up to approx. 50°. Numbers per line and locations were not known.
Target of the inspection
Perform a high resolution MFL inspection.
Concept for a solution
3P Services proposed first to develop and run a geometry inspection tool, that would document which line actually has mitred bends and the angle, as well as the exact location. Second, 3P Services proposed to check its own MFL tools to what degree mitre bends could be accepted and possibly to optimise the MFL tools in this regard.
Performance
3P Services developed the GEO pig which is capable to (1) negotiate mitre bends up to 50°, (2) make a continuous measurement of the internal geometry and (3) can distinguish between mitre and radius bends. The concept was approved by the Client following a pump test in 3P Services' facilities in Germany for the prototype 8" GEO tool. The MFL tools were optimised regarding mitre bends. Finally, all 6" to 12" MFL tools can negotiate 30° mitre bends. Within 2 months 3P Services completed the fleet of GEO tools for the other pipeline sizes, mobilised and performed the inspection.
Result
The GEO inspection led to the conclusion that mitre bends were present in the lines in a much smaller number than anticipated by the Client. Several of the pipelines did not have mitre bends exceeding 30°, so they could be MFL inspected without any pipeline modification. For the remaining pipelines with high angle mitre bends a minimum modification programme could be set up and executed on a relaxed schedule.