4″ offshore flowlines
Pipeline Description
Offshore flowlines 4", wall thickness ½", designed as a hair pin loop starting from the Gannet A platform (Central North Sea), passing by two subsea production templates and back to Gannet A (see Fig. 1). The total length is 11.7 km. There are flexible riser sections at the foot of the platform and bend radius of 5D within the risers.ent.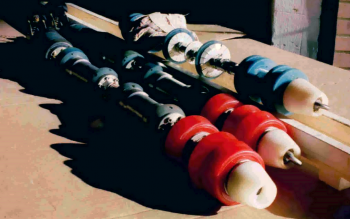 Why is it "un-piggable"?
½" wall thickness cannot be sufficiently magnetised in a 4" pipeline. Therefore an MFL inspection is not feasible. Ultrasonic inspection tools, that could handle the wall thickness, were not available for 4". Further, the permanent pig traps, having a length of only 1100mm, cannot be extended.
Target of the inspection
Perform a high resolution inspection for internal local corrosion. Due to the project circumstances the inspection was to be performed under urgency.FL inspection.
Concept for a solution
When the requirement came up, 3P Services had a new type of sensor technology under development. These "DMR" sensors (direct magnetic response) measure the distance between their own location and the next ferritic surface. If properly mounted onto a sensor carrier the DMR sensors are sensitive to internal local metal loss without influence of the wall thickness.nd possibly to optimise the MFL tools in this regard.
Performance
3P Services received an order to conclude the development of the sensor, apply it on an in-line inspection tool and inspect the flowlines. Two identical units, each carrying 32 DMR sensors were built and tested within only 4 weeks (see Fig. 2). Upon the final testing, the tools were approved by Shell Global Solutions Amsterdam for the Gannet project and mobilised off shore. The tools were propelled by stabilised crude which was available on the platform. The temperature was 70°C at the launch and approx. 40 to 50°C at the receiving end. Both units of the DMR inspection tool were run to achieve a double set of data.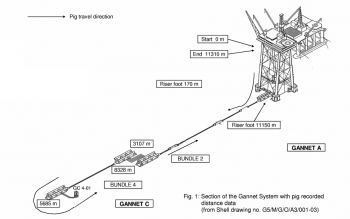 Result
Both tools recovered complete inspection data that allowed an interpretation over the entire length of the pipeline. Internal metal loss like beginning pin holes having a diameter of 5 mm and 1mm deep was clearly identified at excellent repeatability. The operator's targets were achieved, budget and time schedule were met.